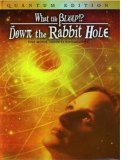 Wednesday, October 10
7:00pm sharp!
WHAT THE BLEEP!? - DOWN THE RABBIT HOLE (2006)
Betsy Chasse (Director), Mark Vicente (Director)
LOCATION: Anne-Katrin Spiess' Home, 622 Greenwich St, Apt. 6A (b/w Leroy & Morton St)
Proving once and for all that life can be an amazing journey—and a real trip—this all-new Quantum Edition release of What The Bleep!? Down the Rabbit Hole utilizes cutting-edge DVD technology to create a unique version of the film with every viewing! The possibilities are endless...and so is the fun!
Academy Award® winner Marlee Matlin is Amanda, a photographer suddenly transported into a metaphysical world of quantum mechanics, odd science and mind-bending phenomena. Guided by the world's top physicists, engineers, biologists and mystics, she tumbles down the rabbit hole and gets a first-hand look at the fascinating links between science and spirituality in our everyday lives. " People who see this and say "It really makes you think" or "That is SO right on" are not nearly as smart as they want to be. " Ted Dunning
Free/Suggested Donation $10 (no one turned away for lack of funds)
No reservation required
For more info, contact NYshamaniccircle@gmail.com